France will take measures to "Replica", even of "Retaliation" within eight days if the United Kingdom does not grant more licenses to French fishermen, declared on October 14 the French Secretary of State for European Affairs, Clément Beaune. Nine days later, French fishermen say progress with Britain on licensing fishing in British waters after Brexit is insufficient.
"The negotiations that resumed last Wednesday have at this stage resulted in the issuance of a handful of additional licenses. (…) The progress recorded is much too timid and above all much too long (…) ", declared, Saturday, October 23, the National Fisheries Committee (CNPMEM) after a videoconference with the Minister of the Sea, Annick Girardin, adding that the Minister had assured French fishermen that"She wouldn't let go". This videoconference was intended to keep French fishermen informed of the progress of negotiations conducted by the European Commission with the British authorities.
France accuses London of not respecting the agreements concluded within the framework of the exit of Great Britain from the European Union by imposing new conditions on the granting of licenses in British waters for European fishermen, in particular the proof pre-Brexit activity in the areas concerned.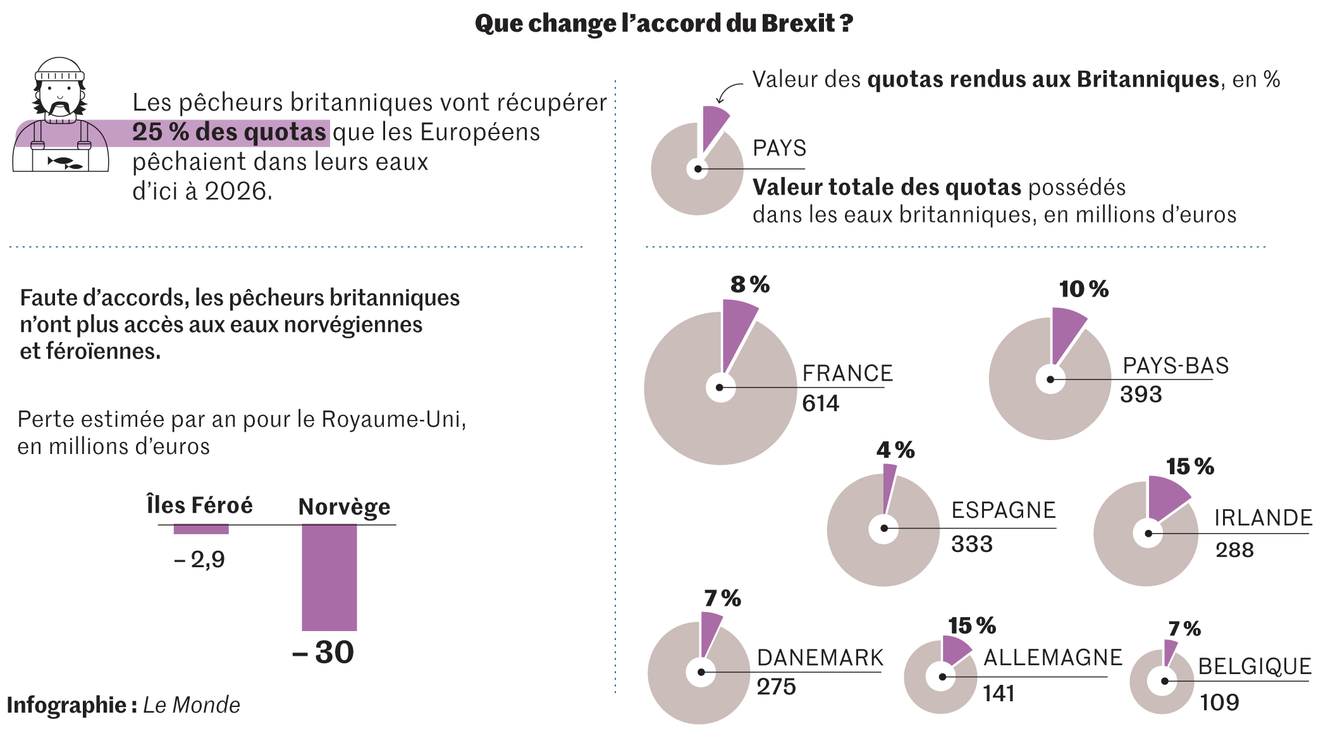 Deadline set for October 30
The post-Brexit agreement signed at the end of December between London and Brussels provides that European fishermen can work off British and Channel waters, but must prove that they have already done so in the past. Nine months after the agreement, Jersey granted 64 definitive licenses to French boats (against 169 requested by Paris) and rejected 75 applications.
The CNPMEM warns that, in the absence of a "Satisfactory epilogue" quickly, this quarrel "Will not be long in ending in mood swings" from French fishermen. According to the French government, which threatens to take retaliatory measures in areas such as energy, access to ports or customs matters, Britain has set October 30 as the deadline for the granting of of its licenses. According to the CNPMEM, the Prime Minister, Jean Castex, will chair a meeting on the subject on Tuesday "During which the French strategy will be refined".
Olivier Leprêtre, chairman of the Hauts-de-France regional maritime fisheries committee, said representatives of the European Commission and the British government would meet again on Monday. "We need clear answers before the end of the month to give visibility to fishermen. The technical work will continue in the days to come, at a forced march ", he said, assuring himself that "The government is not giving up".
Read also
Article reserved for our subscribers

For French fishermen, "overnight, Brexit became concrete"