Siane, Amandine, Diane, Clémence are 15 years old. All of them already know very well how patriarchal violence manifests itself on a daily basis. Siane evokes in first "The men who stare at me in the metro". Amandine, she confides that her mother "Dare not divorce" for fear of ending up without money after having stopped working to take care of her three children. Diane tells the story of her nanny "Who has suffered a forced marriage and domestic violence".
They all represent this youth that the We All collective has chosen to highlight, Saturday, November 20, during the march against gender-based and sexual violence. This year, the collective has chosen to offer young activists to lead processions organized in several cities, between Saturday and November 25, international day against violence against women. One way to pay tribute to this youth very mobilized on social networks, quick to share feminist struggles with hashtags. The most recent: #metoopolitique, #metoomedias, #metooGHB, # doublepeine… all bear witness to the extent of denunciations of gender-based and sexual violence.
Diane, Siane, Clémence, Valentine… A dozen of them met at # Manifs20novembre. The patriarca … https://t.co/SLX98LtGwn
In Paris, the demonstration from Place de la République to Nation brought together 50,000 people according to the organizers, 18,000 according to the police headquarters. In 2019, two years after the MeToo movement, We all mobilized 100,000 demonstrators according to the organizers and 35,000 according to the police. After the cancellation of the march in 2020, because of the health crisis, the organizers hoped to mobilize en masse, fifty years after the first major demonstration of the Women's Liberation Movement (MLF) for sexual freedom and abortion, the November 20, 1971.
"Incest kills"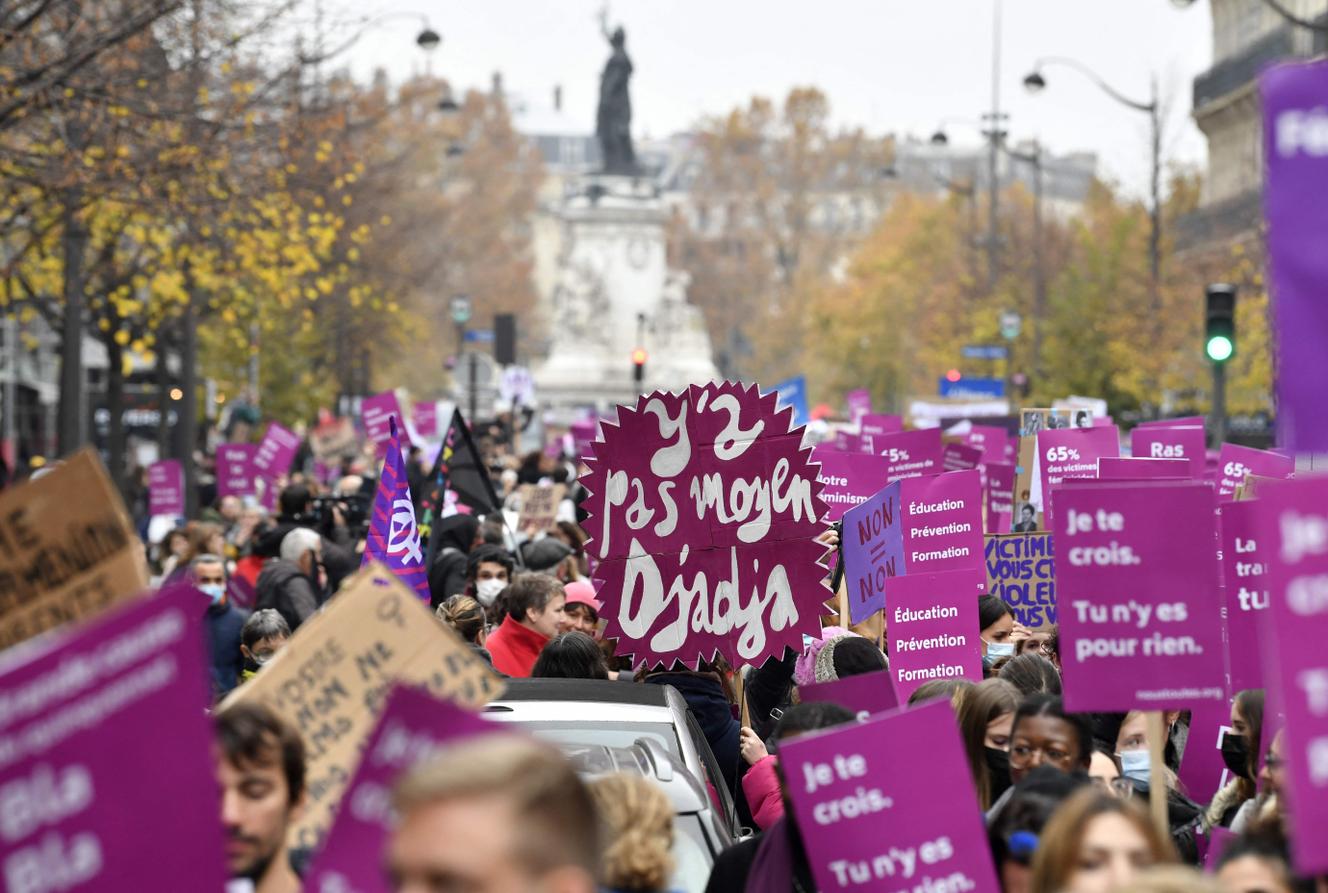 It is 2 pm, a cloud of purple placards, the color of feminist struggles, strews the Place de la République. Jessica, 37, comes to every feminist protest. "After the cancellation of last year's one, it's important to show that our movement is not running out of steam", testifies the mother of the family who came with her three children and her companion.
Many demonstrators came with the family, like Jessica, who came with her companion and her three children "for… https://t.co/WI2fNErZqX
"Violence against children remains too invisible", denounces the mother of the family. On the banners, a few messages relate specifically to this subject and the need to protect the most vulnerable: "Incest kills", "Pedocriminality, end of impunity". The sign of a recent awareness in society of the ravages of incest and sexual violence against minors.
You have 65.82% of this article to read. The rest is for subscribers only.