The heady story of genius Max Roach!
January is the birthday month for jazz greats.
George Duke (12.01), keyboardist known for mixing jazz with other genres and collaborating with Frank Zappa and be part of the band Jazz Club Rating, leadered by Al Jarreau.
Gene Kuppa (15.01), energetic drummer who played with Glenn Miller, Buddy Rich, Benny Goodman (the iconic solo of Sing, Sing, Sing gives a clue about his talent and why he was so popular in the swing era)
Bobby Hutcherson (27-01), vibraphonist who collaborated with Grant Green, Dizzy Gillespie , Herbie Hancock, McCoy Tyner. His improvisation and composition helped define jazz modernity and establish him as one of the greatest of the free jazz generation.
And if I mention martinis, luxury cars, wonderful women, anyone will associate it with one of the biggest movie franchises, but nothing, in my opinion, refers more to the Bond universe than the sensual and powerful voice of Shirley Bassey (08-01) chanting the verses of Goldfinger, 1964, for example. Lady Bassey is a legend, one of the most popular artists in British music, holder of several awards and the incredible mark of being the first female artist to have a hit album for seven consecutive decades, achieved after the release of her last album in 2020, I Owe It To You All.
The genius Max Roach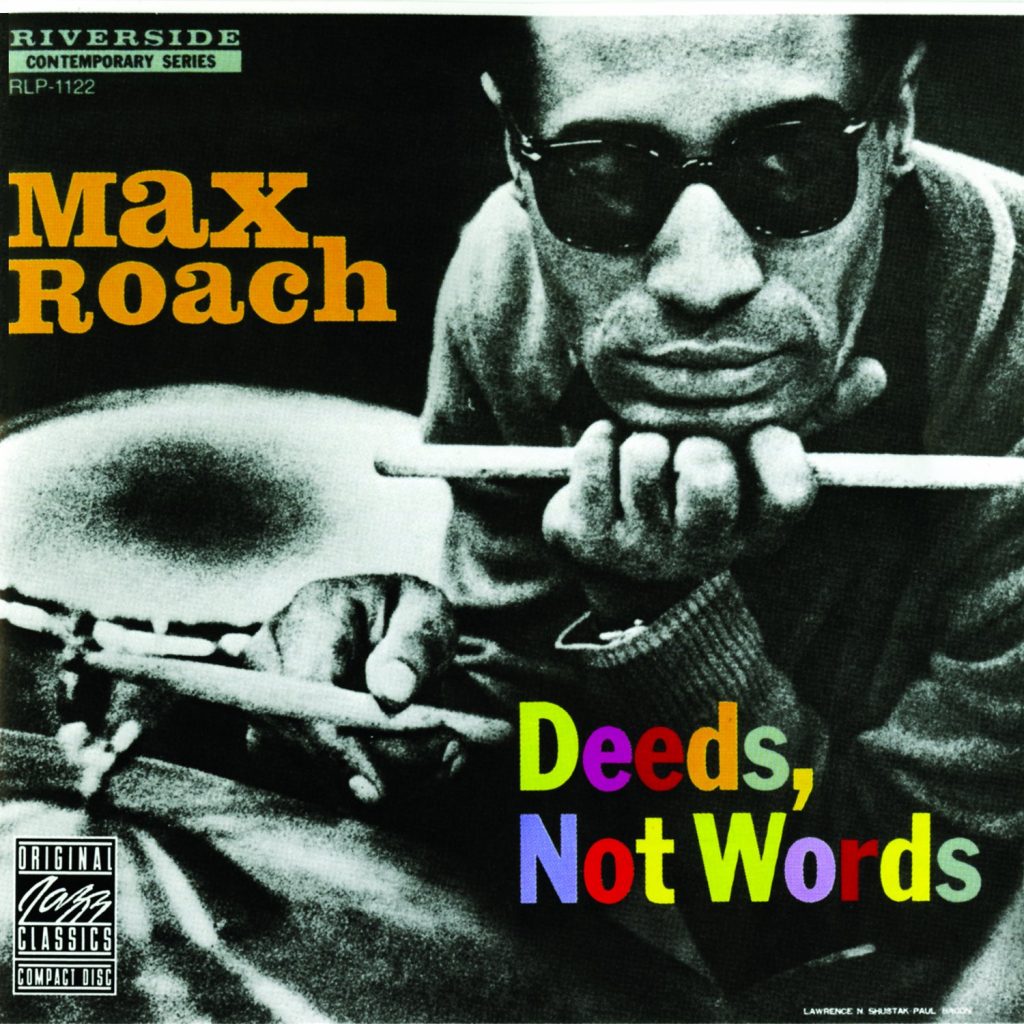 Among so many great ones, I chose to delve into the immense Max Roach, because I'm a fan of all the aforementioned ones, but Roach has a special place in my heart and on my speakers.
Maxwell Lemuel Roach was born on January 10, 1924, in a small town in North Carolina, moved to Brooklyn, NY, with his family when he was 4, son of a gospel singer, began studying piano and trumpet in a Baptist church at 8 years old and playing drums just a few years later, having Jo Jones and "Big" Sid Catlett as his biggest inspirations. Studied at Manhattan Music School, where he almost gave up when a teacher said his technique was "incorrect". At just 16 years old and with a pencil-drawn mustache to make him look older, he played briefly in the Orquestra de Duke Ellington, replacing Sonny Greer.
In 1942, he began to participate regularly in jam sessions by traditional clubs such as Minton, Where Monroe's Uptown House, in Harlem, alongside big names like Charlie Parker, a period in which he was already starting to deviate from the swing patterns of the time and favored him in the development of his advanced rhythmic ideas, which helped to mark the bebop, as did the also revolutionary drummer Kenny Clarke. In 1943, he made his first appearance on an album, accompanying the veteran saxophonist Coleman Hawkins, from then on there were numerous participations in some of the most important jazz records such as Birth of Cool, Miles Davis, 1949/1950, or on the discs of Charlie Parker, with whom he worked from 1976 to 1953, omnipresent in the jazz scene, also collaborated with Thelonious Monk , Sonny Stitt, Fats Navarro, between others.
Max Roach and Kenny Clarke are the greats who revolutionized jazz drums and percussion. Clarke shifted the emphasis from the kick drum to the cymbal and hi-hat, but it was Roach who brought to this new technique an imagination and creativity that are influences to this day, being able to maintain simultaneous, separate rhythms in each hand which made the drums much more than a means of keeping time, and it elevated Roach to the rank of front-line musician. Charlie Parker's song "Ko-ko" is a great example of how skill in speed and anticipation underscore the lyricism of Bird and Gillespie. I also need to highlight the participation in the classic St. Thomas, by Sonny Rollins, because I just love the whole game, the drum intro, followed by the Rollins sax notes, velvet in my ears.
In 1954 he went from sideman to leader when he joined the trumpeter Clifford Brown to form a quintet, with tenor saxophonist Harold Land, a year later replaced by Sonny Rollins, the pianist Richie Powell and the bass player George Morrow. The group specialized in a stripped down version of bep bop, later called hard bop, and one of the first groups to perform pieces in unusual times for the time, which went beyond the traditional 4/4, such as the rhythms and modalities of 3/4 waltz. Check it out mainly in the beautiful Jazz in 3/4 time (EmArcy Records, 1957).
Unfortunately, the group was short-lived, ending with the deaths of Brown and Powell in a tragic car accident. In the following decade the level of art and innovation remained and passed through the bands that Roach led names like Eric Dolphy (sax, flute and clarinet) Stanley Turrentine (saxophone), Donald Byrd (trumpet), among others. Few of his groups had pianists and had the drums as a highlight.
In 1952, Roach co-founded the Debut Records with the bassist Charles Mingus, releasing "Jazz at Massey Hall", a record of a show, considered by many to be "the greatest show of all time", featuring Charlie Parker, Dizzy Gillespie, Bud Powell, Mingus e Roach.
Roach's Greatest Albums
Some of Roach's most important albums as a leader are Money Jungle, 1962, and for sure We Insist! Suite Freedom Now , with letters from Oscar Brown Jr. and vocals from his then wife Abbey Lincoln, with whom Roach had a musical partnership for over 10 years.
In the early 1960s, he was one of the first jazz musicians to join the civil rights movement and use music to talk about racial and political issues. The cover, a photo on a cafeteria counter, referring to the "sit in" that preached the end of segregation in establishments and the protest of Martin Luther King, who sat down with 51 other activists at a "for whites" restaurant in Atlanta and they all ended up arrested as squatters. The climax of the album is in "Triptych: Prayer / Protest / Peace" with a wordless duet between Roach and Lincoln, of regret and anger turned to pure beauty. The five movements of the disc narrate beyond the struggle for civil rights, slavery, emancipation and the Movement for the Independence of Africa.
Associated with bebop, Roach was not limited to this musical style or even jazz, an innovative and adventurous artist until the end of his career, he wrote Broadway musicals, collaborated with choreographers, and with rapper Fab 5 Freddy in the 1990s. 1990, known for hosting the show "Yo! MTV Raps." In the 1970s, he formed the unique musical organization M'Boom, an all-percussionist orchestra (Fred King, Joe Chambers, Ray Mantilla were among the members).
Considered one of the greatest drummers in the world, he made history. He remained active until close to his death in 2007. Max Roach is to be heard and given a standing ovation.