Michal Horák is such a bright star, another glimpse of the sometimes cloudy, gloomy and shabby Czech music sky. His humor, boundless talent and a kind of modesty shine and I hope they will shine for a long time. This year he released his second series "Michalbum", on which he confirms the qualities set by the first.
Michal Horak – Michalbum
Released: 24.9.2021
Total time: 44:00
Tracks: Dating, Plans go (feat. ZŠ Říčany), Congratulations !, Social duet (feat. Berenika Suchánková), Dog ballad, Fifth coffee, Vpoho, In tolerance (feat. Tereza Balonová), I eat a lot and I like it, Good morning, Miss (feat. Vendula Příhodová), Graduation, Home to you, When I will be sixty-five, Prsa (feat. Pavel Čadek)
Publisher: Supraphon
"Michalbum" follows on from the debut "Michal's CD", which the recent Discovery of the Year in the Czech Nightingale poll Michal Horák published two years ago. The names of both records are really good – trivially concise, yet imaginative. The current compilation is such a best of hits that their author has released in the meantime. It reflects the time of lockdown and what a young man his age experiences.
The record is a very diverse range of genres, so there is no danger of monotony. What a song, it's a different shade, but also a different story, a story, always with a legible point. Michal does not lose any of his sympathetic civility and his ability to gloss with everyday life, carefree and funny exaggeration. Situational humor is simply his most natural language, in addition he can work with Czech – put in verse kolchoznici, not everyone can do it. The collection covers several topics. One of them is the embarrassment of dating. Right in the opening song "Dating", the singer admits that he was never on a date that would work. The "antisocial duet" with Berenika Suchánková is a free continuation of the opener (Berenika also plays in the clip for it), it reflects today's virtual online communication, embarrassing debates and the inability to get to know each other. In the duet "Good morning, Miss" with Vendula Příhodová, Horák bet on security – they already sang "How love will be with us". The song is about the timidness of addressing someone and professing sympathy, while someone is a saleswoman at a vegetable stall. "In tolerance" with Tereza Balon is about the uncertainties and cute embarrassments at the very beginning of the relationship. Michal notices what he would not do for each other, despite his limited budget and awareness of his own imperfections. The second connecting theme is love, in whatever form. "Home to you" is about the desire to travel, but also about the love of home. The love of food is described by "I eat a lot and I like it". The author probably has a good metabolism that is not visible on it. All that remains is to quietly envy. He sings the female virtues in the song "Breast" with Pavel Čadek. By the way, this is the only song for which he did not write the lyrics – Matěj Klusáček is behind the lyrics. He describes the stimulation of vigilance in distance learning in the "Fifth Coffee" – it must be sweet to be doped with the necessary dose of energy. And then there are the motivational songs. He found inspiration in Dad in "When I'm Sixty-Five." The songwriter describes that his father is a role model for him, that he would like to be like that too, but at the same time he wants to remain himself. The fact that even if something goes wrong, it is necessary to stay on top of things, discusses "Plans are going". He incorporated his future civilian vocation and experience in working with children into the verses and recorded the song with the choir at the Říčany primary school. The moments when he succeeds, whether for better or for worse, he glosses over in a piece of "Vpoho", which is dominated by the trumpet. A separate chapter is "Blessed!". It tells of the local gossip, which was told to Horák by his father, the mayor. It is worth mentioning the entertaining clip, shot on several cameras. We can see Michal here in several roles, including his teammate Adam. He refers to education in the songs "Maturitní", where he also balances how life escaped. "Dog Ballad" is another song about the dead, as well as "Hey Auntie!". In the first he sings about the dog, in the second about the hamster.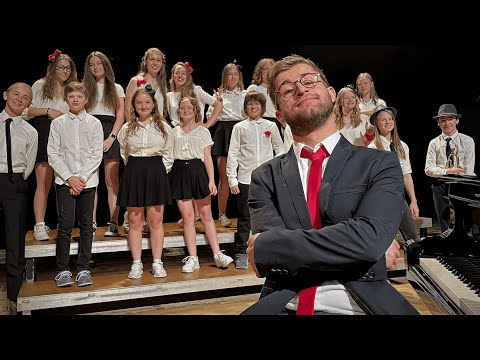 As a whole, however, "Michalbum" is a guarantee of a relaxed and entertaining musical experience. After listening to it, you will have a smile from ear to ear on your face for a long time. Michal Horák manages to balance on the border of humor and embarrassment, which few can do. At the same time, it emerges from the influx of music that is pouring in at this time. It shows not only young people that you don't have to go with the crowd to attract, and that music can also be created in person.
.