Skywalker belongs to the top of the hardcore scene, with his professional approach, activity and ambitions he also got into the hearts of foreign fans. They released the album "Late Eternity" this year and now they would like to try their luck at Eurovision. They definitely have the talent and energy to do it. We talked to singer Jay.

© Danny Nguyen
I was pleasantly surprised by your participation in Eurovision. This year's final seven is very high quality and balanced after years. In some European countries, competition is almost a national event, with rather negative connotations. How do you take it? Have you watched her before? What does it mean for you and how do you perceive this year's competition?
For us, this competition has almost no negative connotations. From previous years or from interactions with the Czech team, we have the impression that this is a serious effort to find and pull out interesting performers. I remember the Lord from the past, it was a cult of its time.
What is your main motivation? What do you promise? Influx of fans and increased interest?
We know who we are and what we want, this is actually a platform on which we demonstrate who and what Skywalker are. Of course, immediately since the announcement, our listening, the number of views of the clip, and watching on social networks are increasing. But this is actually the purpose of big platforms – to deliver music to your ears. Of course, this does not change the inner integrity of our music and artistic expression, we are just grateful for that opportunity.
The competition song "Way Down" is about running away from problems and unhealthy addictions to other people. Why should she win?
An interesting combination of considerations in one question. Anyone who knows us knows that we have been dealing with the more sensitive topic of mental health and fragility for a long time, this is our leitmotif. The pandemic has deepened the mental distress of many people, and we've really gotten to the bottom many times, so I think it's time for musicians to feel like we're in this together and that bands don't care, though, as I observe, it is not completely cool topic. I don't know if that's why the song should win, but I know it's his strength.
© Danny Nguyen
Opposite rivals you look outward with a simple presentation – no kitsch, no exaggeration. Is it because you want to be interested in the content rather than the tinsel?
We are a post-hardcore band that has years and hundreds of concerts around the world. We cannot and do not want to pretend to be something we are not, but this is not false modesty. We know what we are strong at: a present, lively, energetic and 100% honest show. Of course, we write directly from the heart, the content is essential for us. That's exactly what we want to show people.
You used to tune concert and promo visuals to orange. Was there any justification?
We like the clear visual appearance of the band at a certain time. That's why we worked in orange from the "Ignis" clip to the end of the "Late Eternity" record. You may have noticed that we switched to purple. It doesn't make a clear name, rather colors complement emotions.
Skywalker
Skywalker is a young four-member hardcore-punk-rock band from Prague and Liberec. He plays Jay (vocals), Tom (bass), David (guitar, vocals) and Damian (drums). One of the most prominent bands of this genre was formed in 2011 and has been touring abroad since 2016 – they played in Europe, but also in Japan or China. The band is also known for its unequivocal attitudes in terms of vegan and vegetarian diet, lifestyle without the need for suffering of others, which naturally joined its clearly anti-fascist, anti-sexist, anti-homophobic and markedly leftist philosophy. In 2021, Skywalker released the album "Late Eternity" and are currently in the final seven for the Czechia in Eurovision 2022.
Speaking of nominations, another nice surprise and one of my favorites is the German Eskimo Callboy. Why do you think Eurovision also attracts representatives of the HC scene? Is it necessary to look for a link to last year's winners?
From my own experience, I know that the national team tries to talk to artists who are really interested in them, they don't pay much attention to numbers or fame, but how the work affects them. This is a position that labels have traditionally represented, but in recent decades they have been leaving it and rather simply pouring money where it carries. There are honorable exceptions, but I think it's great that Eurovision teams have thought of this.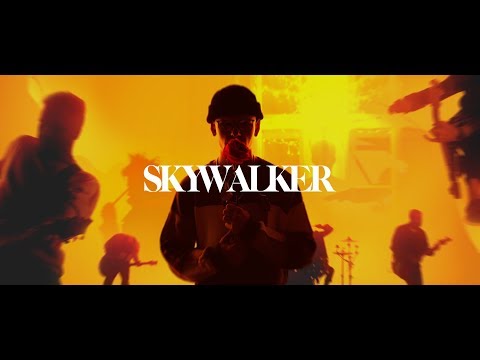 What surprised you after the announcement of participation? You, Jay, said on your profile that some of the things people write are really bizarre …
We were especially surprised by the crazy wave of support from around the world from bands, fans, magazines and the like. We know that our international scene is highly valued their bands, but this really exceeded all expectations. Bizars are more comments from people who meet music other than the mainstream on the radio for the first time in their lives and don't catch up. But hey, that's the magic of EV.
The headline from our older interview was on the press, unfortunately taken out of context. Would you like to explain how you thought the words that the Czech Republic is still one of the heaviest balls on the leg?
What we're going to talk about was that the unfortunate wording was probably even more unhappily taken out of context. For years, we have had to overcome certain limits that Eastern Europe places on its artists. We are totally overwhelmed by Western culture, especially American culture, sometimes it is really absurd, but we are also often in the habit of not believing in ourselves and giving it up. It is such a psychological prison, but we support it all the more and trust those who try and work in the Czech Republic and Slovakia. I hope that Eurovision will help send this talent to the world. We have it.
This year you are celebrating ten years since its inception, of which five years are touring the world. Do you remember your first stop abroad?
Of course, the first foreign (of course, not counting Slovakia) show was somewhere outside Germany. And a full club, crazy. At that time we played with a brand new German band Annisokay, which is actually a legend on the German metalcore scene today. Great times!
Do you have a pre-concert ritual?
Clear: coffee, coffee, coffee. And then all fists on each other and get to work.
You have said that the worst thing is to take music as a weekend hobby. How often do you play music? Is this your job?
Hobby means it's not the center of the world whenever I can throw it away. It's not about whether it feeds you. It's about how seriously you take music. We dedicate ourselves to music every day, from writing to social media, still something, a lot of organization, work with management, label, booking,… So jobs do, but it feeds itself so best, bills don't pay! (laughter)
You teach singing, specifically screaming. Are there a few points you would advise a beginner? What to watch out for?
Sure: remember that scream is NOT a scream. If you just yell like a tur, you'll pick up the vocal cords. It's singing. And drink water.
© Jáchym Belcher
You are currently back from touring Europe. How was the covid? How demotivating / difficult is to have a busy European tour ahead of you and at the same time not being able to say hello to the fans because of the potential risk?
Well, you've actually answered. It's challenging, it's demotivating, but even so, the feeling of being in a van again and crawling in front of people every night in different parts of Europe doesn't get you tired. The final week eventually dropped out due to the covid, but the shows that took place were great!
How do you see your position within Europe? How strong a partner is the Pale Chord label? What do you see as the biggest advantage over groups from the Czech Republic?
Well, we are a fairly well-established European band on the metalcore / post-hardcore scene. Without a pandemic, we run regularly and we can see, now of course it's a lot harder. Pale Chord has helped us tremendously with the distribution of music in the digital space. I don't know what the advantage over bands is, because there is enough space for other bands, I don't really understand what they're waiting for. We just really sleep like mules, we haven't discovered any magic formula.
© Danny Nguyen
You have said that Germany is the center of hard music. What is it?
The biggest scene, a huge country, quality highways for free, so much from the band's point of view. But the most important aspect is that the German scene is not completely waiting for hype, he doesn't want you to prove anything to anyone indefinitely. It's just that when people enjoy your music, they will support you, definitely and financially, which every band just needs, especially on tour. I would not like to reduce it to money, but German fans really value popular bands, regardless of size. Of course, they are in a completely different financial situation than the Czechs, the state actively supports culture, not only the big operas in the capital and the like.
In early 2018, I asked you about bizarre stories from (concert) trips. What have been added in the meantime?
There probably aren't many of them because of the covid, I'm afraid. And we keep the worst to ourselves. (laughter) But the fact is that in the autumn of 2019 we went on a British tour in a family caravan, which was really cool. We could stop anywhere, watch a movie, lie down, great.
You did the previous EP "Sugar House" with English producers. How was it now with "Late Eternity"? Or Damian did it all (drummer, producer, Jay's brother – editor's note)?
The record was primarily produced by Damián, although Seb Barlow from the Welsh band Neck Deep again participated in the single "Ignis", while American producer Jonathan Dolese again participated in "Justify Me" and "Away". But most of it was done by Damian, the album was mainly written by the two of us, the master was done by Mike Kalajian in the USA.
Now your songs are softer, more vocal, there is not so much scene in them. Is it derived from world trends?
No, it's derived from the fact that we write songs exactly the way we want and how we feel.
How did the fans react to this change?
Sometimes, of course, someone emerges and cleverly warns us that this is not what it was x years ago. Fortunately, no one can stop these people from playing older recordings. But the record had a great response, especially in Britain, the reviews were a real pleasure to read.
Can you tell the reader what the content of the album or individual songs is?
I'm afraid we don't have enough space to analyze the texts here, and I've done it several times in interviews and privately. The theme of our album is mainly the feeling of abandonment and loneliness in the middle of the world, which is mainly based on the ideology of total individualism. Everywhere I look, I only see the pressure on how much I care, I'm just the centerpiece. The effort to build a team, to help each other, to be in solidarity fell apart. And as a result, I actually feel terribly alone in all this. In each song, I look at alienation and abandonment from a different angle.
© Danny Nguyen
You declare that you do not set goals, but directions. What direction (besides the ideal cooperation with Deftones) do you want to go now?
Much depends on the development of the pandemic, the attitude of the people in Europe, so the prospects are a bit difficult. Ideally, we will now focus on singles, new music in regular batches, but of course we already have the concept of another recording in our heads. But we are a rock band, we need to ride and play, so I hope to get to that again as soon as possible.
Oppose a lot of discrimination and comment on things that move society. What do you think about current attitudes to vaccination? Why does it upset people so much?
I understand utter skepticism about untrustworthy governments, I understand hatred for farmabyznysu, Oh yes. I sense the desire for a controversial statement here, but I will simply say this: there is no alternative and it is impossible to live indefinitely in covid's captivity, so I appeal for solidarity, for a relationship with humanity, not just for oneself and one's supposed freedoms. Go vaccinated, whatever you think. I hope to see you in good health as soon as possible, I really support all of us.
.