Vladivojna La Chia does not like to stand in one place. And so he paints for a while, writes film or theater music for a while, then records an intimate record and other times he wears a hard band in his back. In addition, it is in one of the most beautiful states that women can be in. And that's what our conversation is about.

© archive of the singer
Your work is extremely diverse and changes in waves. You alternate fine songs with a hard band or film music. You paint and draw on it. Are there genres or creative worlds that appeal to you, but you haven't dared to?
It tempts me to write a play, but mainly to write librettos, operas. I drove a lot while writing my own libretto for my author's opera "Sleeping Lulu". I was fully aware of the importance of working with text for me. Ideally to combine music and lyrics and swing into a larger whole. Writing songs is a beautiful activity, but a bit monothematic. I also enjoy composing music for films and theater performances, but I don't work with lyrics there. I realized this already while working on the recital "8 Heads of Madness" with Gabriela Míčová in the role of Russian poet Anna Barkova. Although it was not my own poems and letters, I enjoyed setting them to music, working with dramaturgy and giving them a different vision. If force majeure does not intervene, the recital will be broadcast on November 26 on Czech Television.
Vladivojna La Chia
Vladivojna La Chia is a singer, songwriter, lyricist and artist who moves across various musical genres. She has released fifteen albums so far. She started in the post-punk band Kočičíčíči, but the wider audience only noticed her in the provocative band Banana. The album "Secrets of the Lot" won the Tais Awards in the categories Album and Song of the Year. In 2011 she was nominated for the Czech Lion and the Czech Film Critics Award for the soundtrack to the film "Innocence", and in 2017 she was nominated for the Czech Lion for the best music for the film "8 Heads of Madness".
On the outside, you look very wild, animal and unconventional. Maybe magically, you could almost say you're like a savage. It can be felt similarly in your work, both artistic and musical. On the other hand, I suspect a lot of responsibility and determination in you. Do I feel good or are you different? And how did you come up with these qualities?
Fortunately, in terms of responsibility and determination, I understood in good time that if I was not systematic and strict in some respects, I would not be able to be as free as I wished. Creative freedom and independence must be redeemed by endless work around it all. It doesn't end there sitting down to a guitar or a paper. The creation itself is just one-eighth of the cake. I am experiencing great professional failures, which, fortunately, have always torn my obsession and desire to create new things. That is why I consider perseverance and unrelenting inspiration to be my greatest success. Everything else is far too fickle and unstable. I need order to keep my savagery and unconventionality.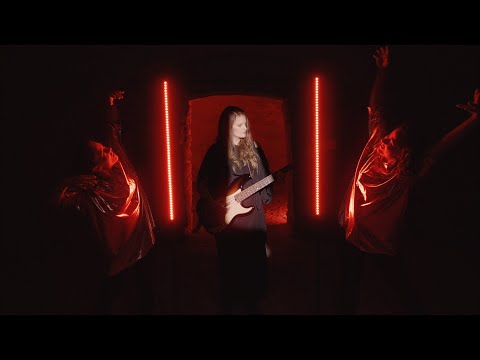 In the autumn, the album "Tam beats in the deep darkness and shines". She is very intimate, personal, full of eroticism, ending in nirvana. As if it were a follow-up to the similarly tuned "Secret (s) of sheets". What stood at her birth?
You're right. The albums are very similar. I composed them myself in a very intimate process. Actually, "The Secret (s) of Sheets" was my last solo album before "There in the Deep Darkness Beats and Shines", to which I painted each CD cover with watercolor, so each piece was original. For the current album, which was released on vinyl seven years after "(S) sheets", I created a series of erotic gravure graphics. Feelings and love were the trigger for both recordings. Nature and hallucinogenic dreams were still mixed in with "Secrets (s) of sheets". The new work is again more connected to the mysticism and contrasts of light and darkness.
© archive of the singer
The collection was released on 10-inch vinyl in limited edition, and you also sell it with your erotic graphics, which were created during the quarantine period. Was the covid pandemic inspiring to you? What did that time give you and what did it take away? How has your life changed because of her?
I worked a lot in the first wave of lockdown. I wrote the opera, guested on Vladimír Václavek's albums, The Old Lady's Boudoir, composed music for a short film and an audiobook. I released my first vinyl, "Heroes of Our Time", ending the era of setting up Anna Barkova's poems. Guitarist Petr Uvira and I sent each other short musical sketches and created such disturbing electronic collages. I started drawing again. In the second wave, I fell in love with my current partner, I started working on a new record. I suffered a severe head injury and returned to free graphics after twenty years. Well, in the end, I got pregnant. So my life has changed from the ground up. That time didn't take anything from me, but it gave me a lot.
You christened the novelty in the Jazz Dock together with the band Tepe a září. Concerts in Brno and Ostrava followed. Will you still play in this line-up, or was it just a short-term project?
I would very much like to perform with this new line-up. First we will focus on my older songs, which could not be played with the acoustic group and which have a similar energy and are, like the current album, electronically tuned. We will try, for example, "Spirit of Love" and "Blue Steel" from the first "Secrets of the Lotto", "Forbidden" and "The Devil Carries the Truth" from "HATCH" or "Bibluška" from "Secrets (s) of sheets" and others. Thanks to the combination of an older repertoire with the latest from the current album, we will have a full concert repertoire. I hope that in the future we will create new songs together.
Erotica is interwoven with your work, both in music and fine arts. What attracts you to her? Do you like to provoke? Maybe it looks like that from your mercy sometimes.
I don't know, I probably have it in waves. I'm not correcting it at all. But I've enjoyed provoking since childhood, that's true.
© archive of the singer
The "secret (s) of sheets" was supposed to accompany the story, which was supposed to be published in book form, but in the end only the CD came out. Why did the book come off?
Well, because the book was over the line. In addition, I got the impression that she lacked a broader literary value. I wrote it in a large ajfra, it was already edited and I had a publishing house. But I'm glad I decided not to release it. I would be ashamed of her today.
With Vladivojsk you recorded a cover of Kittchen's "Sudetenland". For a time, you and Jakub König published comics for the sequel, and you had concerts and exhibitions together. How did this connection come about? What do you enjoy about his work?
It was the idea of ​​Magda Hájková from Opava. She organized a joint exhibition at the Opava House of Arts and we then performed under the brand "Vojna in the Kittchen". I really enjoyed it, Cuba and I are very different, but at the same time we complemented and provoked. I like that with his work, even if it seems disturbing, he can calm his listeners, bring them hope and light at the end of the tunnel. He also has the gift of accumulating interesting people around him. He can create his own pack. I'm a much bigger introvert, even though I have the exact opposite impression.
© archive of the singer
You are expecting a baby for several months, it is no secret that you live with your partner. How complicated is life for such a couple? What should those who are opposed to same-sex couples realize? And how can marriage make your life easier?
My partner can't marry the so-called paternal vacation so that she can help me especially in the beginning. He must take unpaid leave. We also can't take turns at maternity leave. Basically, we don't have any of the benefits that heterosexual bonds have. Marriage is very important to us. Žofka will have two mothers and we both need to be listed as her parents – mothers. If anything happens to me, the fate of our daughter will be in the hands of the officials and that is just the tip of the iceberg. I was renamed after my partner, so that we have at least all three identical surnames for now.
Do you already have well-thought-out plans for the next artistic steps after the birth of a baby? Or you are not dealing with it now and you want to take maternity leave.
I have thoughtful plans. I would like to start touring with the band Tepe a září and then in a duo with Terezia Kovalová, at the latest from April. In October 2022, the opera "Sleeping Lulu" should have its premiere. This is a priority for me, because the premiere was supposed to take place in October, but due to my pregnancy and also the pregnancy of Jarmila Jermářová, who plays the main character, we had to postpone it for a year. I still couldn't afford to be home with my baby for just a year. You can't really make a living from your parents, and my partner works in a noble and interesting area, but not well paid. (laughter)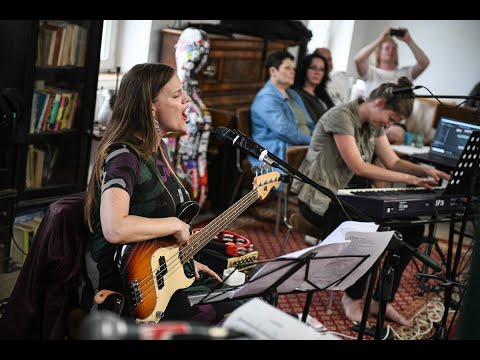 .