The firefighters proceeded, Sunday, November 28, to evacuations of inhabitants in the North, affected by heavy rainfall and, in turn, placed in orange alert "floods" by Météo-France, after the neighboring Pas-de-Calais .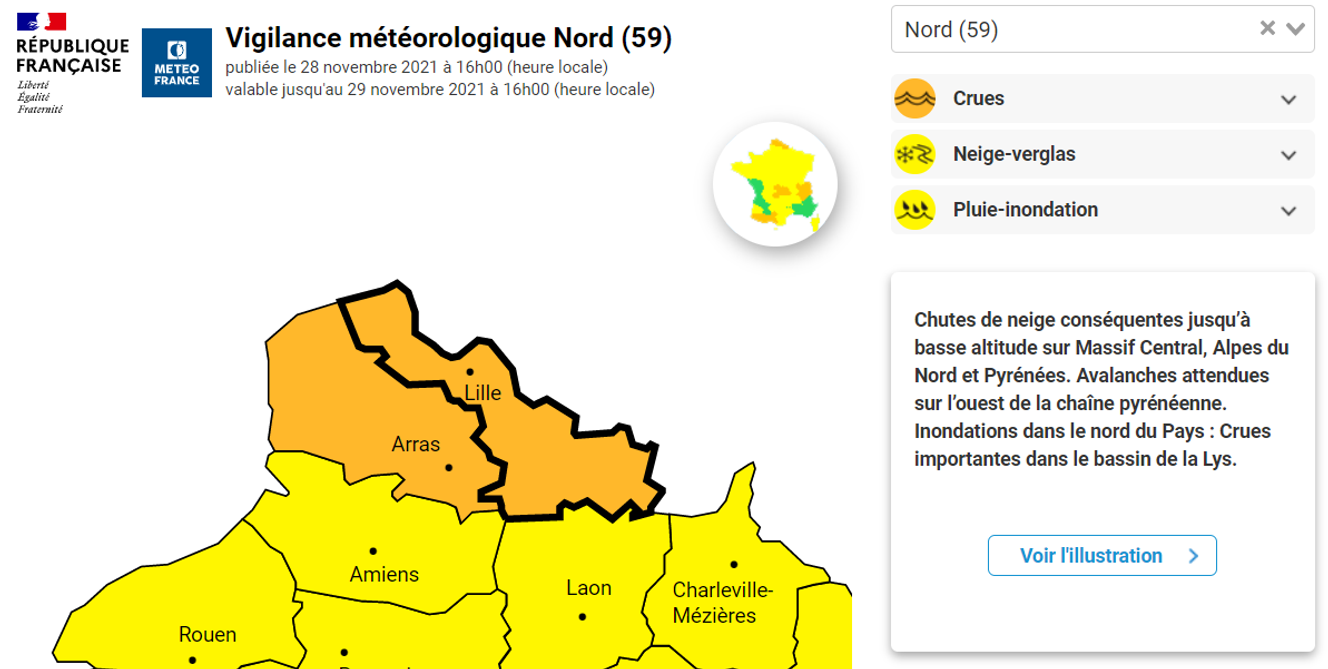 At the beginning of the afternoon, sixty people had been evacuated from twenty homes in the town of Arneke and were grouped together in a communal room, announced the firefighters of the North. A command post was opened in the nearby commune of Wormhout, in order to pilot operations, while the departmental operational center was activated in the prefecture, they added.
In this area, public roads were also flooded in the municipalities of Esquelbecq and Eringhem, where an elderly disabled person was evacuated as a preventive measure from his home.
In Pas-de-Calais, placed from the morning on orange vigilance, firefighters recorded, in the middle of the afternoon, 96 interventions, most for pumping in homes, mainly in Audomarois and, in particular, in Arques. "Some evacuations" people relocated with relatives have been carried out in this area, according to firefighters.
Eleven departments in orange "snow and ice" vigilance
L'"Major rainy episode" which started during the night in Hauts-de-France and which "Slowly shifting towards Belgium" caused "Major overflows on the Lys Amont and Lawe-Clarence rivers", in Pas-de-Calais, while "The floods are spreading" on the Lys basin in the North, said the Vigicrues site.
This "Rainy activity will continue until the middle of the night, shifting slowly towards the east", according to Vigicrues. In these conditions, "Significant flooding is possible" and traffic conditions can be made difficult, power cuts can occur and dikes can be weakened or submerged, warns the site.
Météo-France has, moreover, placed the Pyrénées-Atlantiques and Hautes-Pyrénées in orange "avalanche" vigilance, while eleven departments are maintained until Monday in orange "snow and ice" vigilance. These are Ain, Isère, Savoie, Haute-Savoie, Corrèze, Creuse, Puy-de-Dôme, Ariège, Haute-Garonne, Pyrénées-Atlantiques and Hautes- Pyrenees. Météo-France emphasizes that this is a "Non-exceptional episode, but sufficiently notable to cause circulation difficulties".